Joel Ernst: Myths and Facts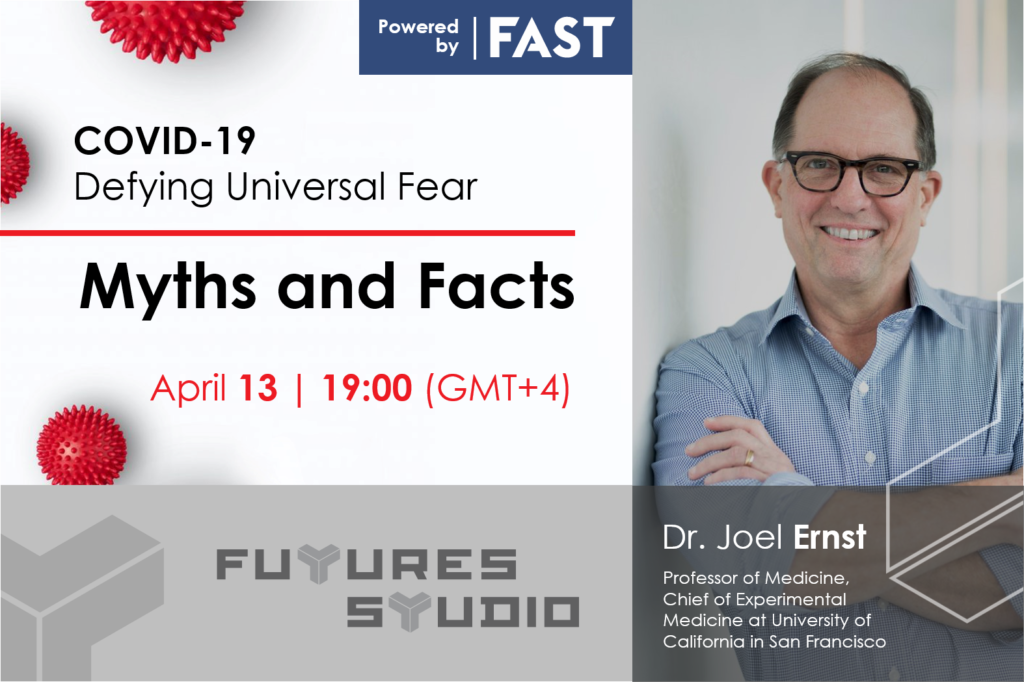 Discussion date and time

April 13
7 p.m. Yerevan time (GMT+4)
The webinar will take place on April 13 at 7 p.m. Yerevan time (GMT+4), with Dr. Joel Ernst, Professor of Medicine, and Chief of Experimental Medicine at University of California in San Francisco.
Dr. Ernst will begin the series of COVID-19 webinars with various healthcare professionals. This series of webinars are prepared and held by Futures Studio, powered by FAST and moderated by Kristina Akopyan – MD, MPH, Senior Innovation Analyst at FAST.
Dr. Ernst has vast experience and has worked on different research projects on experimental medicine. He will describe:
what we know about the origin of the virus and what it is related to;
how it is transmitted and why it is transmitted so efficiently;
how our bodies are affected and respond to the virus;
and the status of drug and vaccine research to treat patients and to end the pandemic.
Also Dr. Ernst will dispel the notions that:
SARS-CoV-2 was engineered and intentionally released;
hydroxychloroquine has been established to be effective for treatment and should be given to all patients;
and the pandemic will end with the arrival of warmer weather.
We will also discuss why physical distancing is effective, the importance of respiratory/facial protection and hand washing, and the potential value of widely-available testing for the virus.
The discussion will be held in English. The participation is free. You can join the online webinar by Zoom link (please register below) or by live streaming on Facebook.
You are welcome to send your questions to the speaker before the discussion to crossroads@rvvzfoundation.org.