University & Career Advice by UWCD Alumni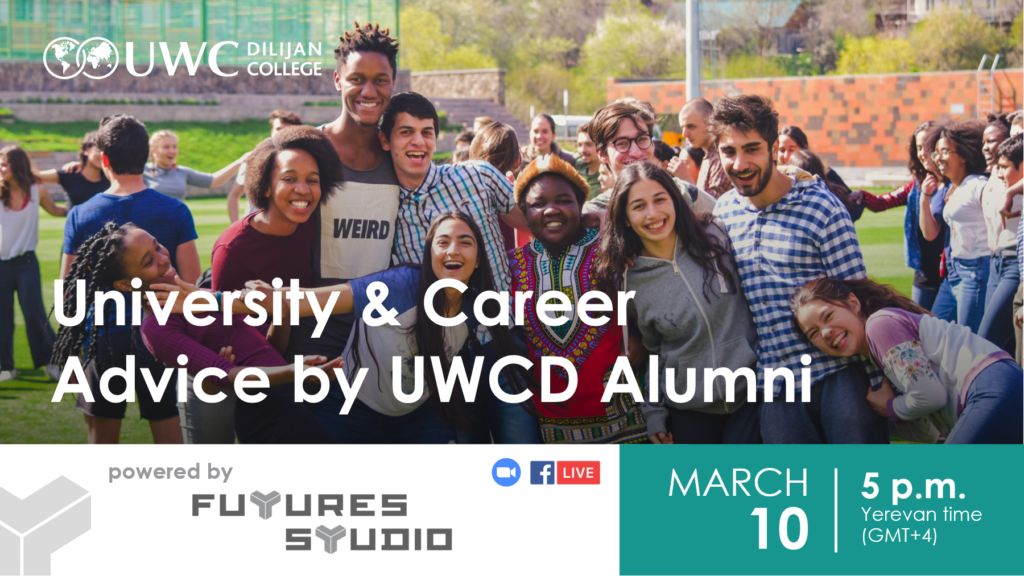 Discussion date and time

March 10, 2021
17:00 Yerevan time
16:00 Moscow time
13:00 London time
8:00 New York time
UWC Dilijan invites you to participate in an online University & Career Advice session led by UWCD alumni on March 10, 17:00 Yerevan time. During the webinar, UWCD graduates from different parts of the world will discuss their lives after UWC and give advice on navigating university life.
What are the main challenges you face after finishing school?
How do UWC and IB prepare you for university and in general?
What are the common mistakes of a freshman and how can one avoid them?
Join the webinar to find the answers and prepare your own questions!
Moderator – Lucia Mantecon (Spain, UWCD'16), journalist & filmmaker, MA in Ethnographic & Documentary Film.
Speakers:
Anabelle Davis (USA, UWCD'20) – freshman at Stanford University, active in debating and local political campaigns
Eduard Petrosyan (Armenia, UWCD'17) – MSc Molecular Health Sciences at ETH Zürich
Kaiulani Lorenzo (Mexico, UWCD'18) – studying Industrial Engineering and Innovation Management in Universidad Panamericana (Mexico City)
Idomu Ito (Japan, UWCD'17) – MA in Economics at the University of Oklahoma
Marcos Nascimento Dos Santos (Brazil, UWCD'16) – doing his PhD in Aerospace Engineering at Georgia Tech.
Language: English.
Date and time: March 10, 2021 at 17:00 Yerevan time, 16:00 Moscow time, 13:00 London time, 8:00 New York time.
Participation is free. You can join the live tour by Zoom link or by live streaming on Facebook.